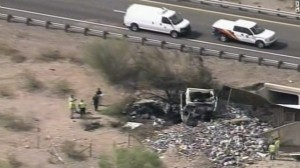 A tractor-trailer collided with a passenger van in Arizona yesterday which resulted in the tragic death of 7 people.  The van vehicle was heading east on Interstate 10 about 40 miles west of Phoenix while the truck was traveling west when it went across the highway and struck the van head on.
Following the initial impact of the car accident, both the tractor trailer and the passenger van exited the right side of the highway and then both vehicles caught fire.  Medical examiners continue to try to determine the identities of the 7 occupants of the van.
Lindsay Rakers, a Missouri and Illinois injury attorney, handles car accident cases and truck accident cases in St. Louis and throughout the state of Missouri and also in Metro East Illinois including Edwardsville, O'Fallon, Belleville, Fairview Heights.  If you have been in an Illinois car accident, pick up this free Illinois Car Crash guide.