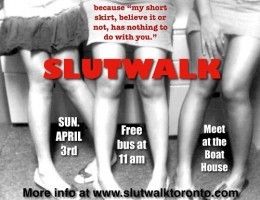 I agree that the name is a little odd but the message is a good one! In this day and age, it seems pretty darn obvious that no one deserves to be raped – regardless of the individual's choice of dress at the time of the crime. But apparently, there are people out there that still don't understand this concept. In January of this year, a police officer's ignorant statement created an uproar across the U.S. While given a talk to sudents at York University in Toronto, Constable Michael Sanguinetti stated that a way to avoid rape is to not dress like "sluts". Specifically, "You know, I think we're beating around the bush here. I've been told I'm not supposed to say this, however, women should avoid dressing like sluts in order not to be victimized."
The community was taken by surprise and understandably, not pleased by his comments. In response, they took to the streets and marched in protest. Since that time, many satellite marches have popped up across the country and even the world. St. Louis was the most recent participant. The members of this event all came out in the The Grove Neighborhood in St. Louis Missouri. They wore stockings, corsets, leather, tank tops, heels and short shorts. Over 200 people marched down Manchester Road. The message was "real men take no for an answer".
I like the message here and I like the strength of the community members who showed up for this march. As a personal injury attorney in the area, I hear about people discriminated against at work, treated in ways that can be classified as classic assault and battery. Rape is an absolute horrid thing – for an officer of the law to make such a comment is ridiculous and, frankly, insulting to the rest of the officers who risk their lives for us each day.
St. Louis march draws about 200 in Grove neighborhood, stltoday.com, July 16, 2011.