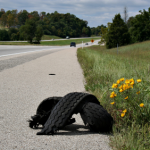 The Illinois Department of Transportation had an unusual mess to clean up Thursday morning. A truck transporting frozen cakes and pastries crashed with a semi tractor trailer on Interstate 74, about 4 ½ miles west of Goodfield, IL. The crash caused almost two dozen deserts and bratwursts to be strewn about the interstate. IDOT responded to the scene and power washed the roadway, due to slippery conditions.
For more information regarding dangerous roadway debris, watch this CNN roadway debris video.
Whether it is pastries or mattresses in the roadway that could lead to a crash, someone is always responsible for the crash and your resulting injuries. There are numerous factors that could be the cause of a crash but no matter the cause it's still a scary situation for all involved. The insurance company will tell you that it was just an "accident". But don't let the insurance companies try to dictate what happens to you. There are laws in place to prevent things like this from happening. Roadway debris can cause crashes – something that the Foundation for Traffic Safety has been looking into for some time. As a Missouri and Illinois car crash attorney, I know what regulations and laws are out there to protect you.