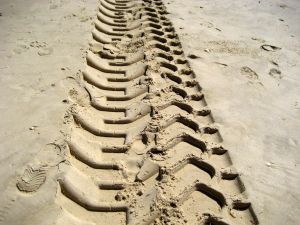 A truck accident was reported on Route VV in Pleasant Hill, Missouri. The Missouri State Highway Patrol indicated that the 24 year-old father was driving too fast for conditions when he crashed causing his truck to overturn and fall into the river. Apparently, only the tires and undercarriage were visable when emergency crews arrived. The father stated that the 6 month old baby was only submerged for a minute and that he was buckled in his carseat.
Thankfully, this seemingly serious Missouri truck accident didn't injure the father enough to render him unable to assist his infant child. Had the father's injuries been more serious, it is likely that he would not have been able to enter the water and save his baby. This particular area of rural Missouri is known for its winding and narrow roads. Car accidents occur frequent in this area of Missouri – even among residents who are famiiar with the roads. Drivers must always drive the appropriate speed for the roadway-even when familiar with the road. Also, parents should always have an emergency plan in place in the event something were to happen to the vehicle while children are riding in the car. This young man was prepared and had the presence of mind to do what was need to remove his young child from the child restraint, even while the truck was submerged. Parents must familiarize themselves, and anyone else who will be driving their children, with the child safety seats and latches.
Dad rescues infant son after truck plunges upside down into creek, The Kansas City Star, March 14, 2011.