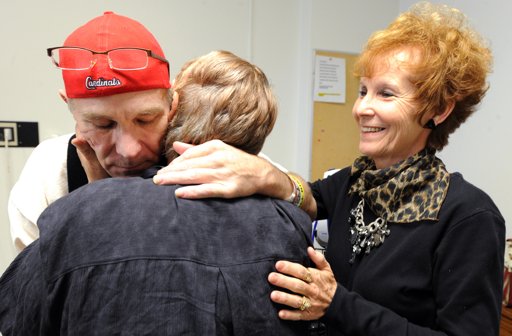 After assisting the Joplin tornado victims weeks after the horrific tornado demolished several miles in the town of Joplin, Missouri, I vowed to do everything I can to help these people. I heard amazing stories of strength and also despair. But I'm not sure anything can top what I just heard today. Mark Lindquist, a social worker, nearly gave his life in a heroic attempt to save three disabled individuals during the tornado.
Lindquist heard that three men with Down Syndrome were in the path of the tornado. As soon as he got to the house, the tornado siren sounded. He placed mattresses over the men and then risked his life by climbing on top of the mattresses for added weight. Then he heard the sound of the tornado coming. As he was helping, Lindquist was raised in the air and thrown a block away which resulted in every single rib in his body being fractured, shattered his shoulder, knocked out almost all of his teeth and left him in a coma for almost two months.
Rescue workers found Mark in a pile of rubble with a piece of metal running through his body. He literally had pieces of flesh torn from his body. He shouldn't have survived. You can imagine the medical expenses that this kind man incurred – over $2.5 million and he is still receiving bills. He has undergone surgery and will have to undergo more in the future. Each day for the unknown future, he is forced to take 11 different pills.
Because Mark was barely making minimum wage, he was unable to afford health insurance. He did have work comp insurance through his employer, Community Support Services, but the carrier Accident Fund Insurance Company of America has denied worker's compensation payments. Why? Well, they argue a technicality prevents them from having to pay. They argue that the general public was at a greater risk. It is absurd and we all need to stand up and shout until the insurance company takes care of this man.
"Miracle" tornado survivor denied workers' comp, news.yahoo.com, October 23, 2011