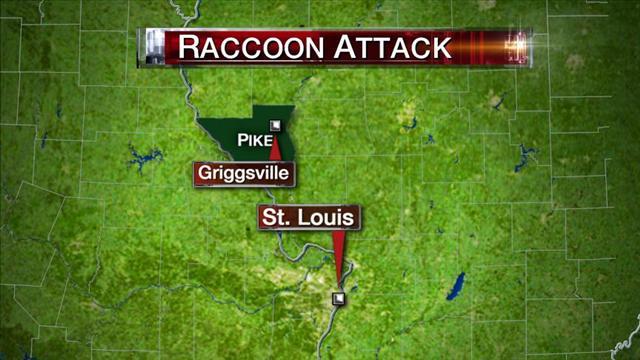 When we think about animal attacks, we often think about injuries caused by dogs. A family in Griggsville, Illinois (100 miles north of St. Louis, Missouri), learned that animal attack injuries aren't always caused by dogs. This particular family owed a raccoon they purchased from a breeder. The raccoon wasn't the typical wild animal we hear about but instead was trained to use a litter box like a cat, walked on a leash like a dog, and even registered with the state as a family pet.
On March 7th, however, this family pet became a little too curious in the couple's four day old grandaughter's bow. The raccoon jumped on the table where the baby was laying and injured the baby. The details of the "attack" aren't really clear although it appears that the animal was interested in the bow on the baby's head and while attempted to get it, left puncture wounds and a cut on her head.
The Pike County Sheriff's Department in Missouri report that the baby was taken to St. Louis Children's Hospital. The doctors there found it crucial to test the raccoon for rabies prior to beginning a treatment course. I suspect that the physicians simply didn't want to subject this newborn to unnecessary treatment. In order to test for rabies, a biopsy of the brain is required and thus, this raccoon had to be put down. The owners of the raccoon of course care deeply for their newborn granddaughter but are also saddened by the loss of their raccoon. It is not yet known if charges will be filed.
Illinois law does have an Animal Control Act which holds the owners of certain animals responsible for injuries their pets cause. An Illinois injury lawyer would need to investigate further the facts of this case and whether or not the family wishes to pursue a cause of action on behalf of their daughter. The good news is that the baby received medication at the hospital and is now at home doing just fine.
4 day old baby attacked by house trained raccoon, ksdk.com, March 15, 2011.