Just prior to 5:00 a.m. this morning on Missouri I-64 just west of downtown, a terrible accident occured injured 20 people. It is likely that most of the drivers were headed downtown St. Louis during rush hour. Last night into early morning, temperatures suddenly dropped in the St. Louis area which caused moisture on the interstates to freeze. Unfortunately, this frozen water was much like black ice and unsuspecting motoriists did not know to look out for it. The St. Louis City Fire Department reported that of the 31 cars involved in this St. Louis car accident, 20 people were injured – one man was critically injured. That man suffered serious injuries because he was pinned between two cars. A FedEx tractor trailer was amongst the vehicles involved in this dangerous, Missouri car accident.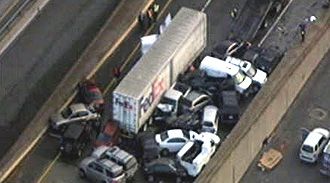 Anytime ice is involved in a crash, it can be very dangerous because even if the driver notices danger ahead, the vehicle's wheels have no traction to avoid impact. Further, as in this case, when a semi truck is involved, injuries can be serious, even deadly, as the speed of the truck cannot sufficiently reduce its speed. Finally, the number of vehicles involved in this St. Louis car accident complicates matters because these drivers and their passengers were subjected to multiple impacts.
31 Vehicles Involved in Wreck on I-64 – 1 Critically Injured, www.kmov.com, February 23, 2011.